USS-FREEDOM HTQ™ offers the most torque capacity in its class.
Threaded & coupled casing connection for the most challenging projects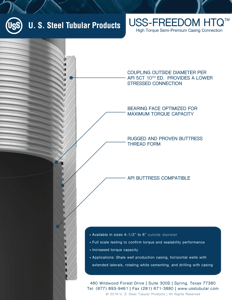 This high torque semi-premium casing connection utilizes a maximized bearing face with the rugged and proven buttress threadform to deliver performance property unlike anything else on the market. Designed specifically with API 5CT 10th edition coupling size, USS-FREEDOM HTQ provides a lower stress connection that is able to sustain a maximum operating torque up to 29,500 ft-lbs1.
Unique design maintains pin-to-pin contact
Tested to full pipe body internal pressure rating with 100% tension and compression.
Available in sizes from 4-1/2" to 6" pipe outside diameter
Download the USS-FREEDOM HTQ™ flyer for additional information about features and benefits.
1 Achieved with 5-1/2" 20# P110 HC material.