USS-EAGLE SFH™ is the next generation of casing connection.
Semi-Flush design with maximum torque capacity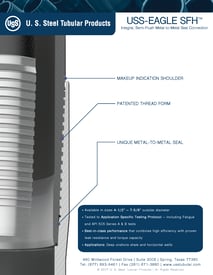 USS-EAGLE SFH™ provides customers a turnkey solution for casing, connections, accessories and on-location rig site services, all with one supplier and guaranteed product compatibility.
Unique features isolate seal to prevent effects of pressure
Tested to Application Specific Testing Protocol – Including Fatigue and API 5C5 Series A & B tests
Available in sizes from 4-1/2" to 7-5/8" pipe OD
Download the USS-EAGLE SFH™ flyer for additional information about features and benefits.