USS-LIBERTY TC® offers you the freedom to choose.
Threaded & coupled casing connection for the most challenging projects
Now offers even more applications with its extended range of up to 10-3/4" pipe outside diameter.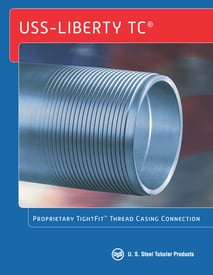 Proprietary TightFit™ thread form provides improved performance in collapse, compression, and torque. This rugged connection is ideal for horizontal and extended reach wells, high-pressure hydraulic fracturing, sour service and more.
Unique features isolate seal to prevent effects of pressure
Tested to API RP 5C5:2014 CAL IV guidelines
Available in sizes from 4-1/2" to 10-3/4" pipe OD
Download the USS-LIBERTY TC® brochure for additional information about features and benefits.