NEW 7-5/8" TO 8-5/8" SIZES NOW AVAILABLE
USS-LIBERTY FJM® with gas-tight, metal-to-metal seal
A true flush connection for clearance-critical applications
When clearance between tubes is of paramount concern, a flush joint connection such as USS-LIBERTY FJM® is your best solution. Applications also include use as a repair liner where casing has been damaged by corrosion or wear.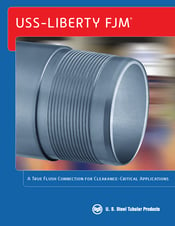 Its high compression strength means that it can be rotated and reciprocating while cementing, combining advantages in clearance, strength, and gas-tight sealing that make it a superior solution for your next clearance-critical application.
Proprietary thread form that has a compressive strength that equals the tensile strength
Internal and external gas-tight, metal-to-metal seal
Rigorously tested to exceed API RP 5C5/ISO 13679 guidelines
Now available in 3-1/2" to 8-5/8" pipe outside diameter (OD) sizes
Download the USS-LIBERTY FJM® brochure for additional information about features and benefits.